Free Monthly Wireless Service
Talk, Text, Stream & More...

We're committed to keeping the sight loss community connected.
Welcome to BlindShell Mobile's Affordable Connectivity Program powered by Easy Wireless, designed especially for individuals who are blind and living with sight loss conditions. Our program is committed to improving your quality of life by providing you with accessible technology and free monthly wireless service.

We understand the unique challenges faced by those with visual impairments, and that's why we've developed the BlindShell Classic 2. Our accessible cell phone is specifically designed to meet the needs of individuals who are blind or visually impaired, featuring tactile buttons, large font size, and voice-guided menus.

And now, with our Affordable Connectivity Program, you can receive free monthly wireless service to stay connected with your loved ones, access important information, and enjoy your favorite entertainment on the go. Say goodbye to the frustration of costly monthly bills and limited data plans. We want to help you stay connected without breaking the bank.

At BlindShell Mobile, we're committed to serving the blind community with the best possible technology and support. Our program is designed to provide you with the tools you need to live a more independent and connected life.

Don't miss out on this amazing opportunity to join our Affordable Connectivity Program and receive free monthly wireless service with the BlindShell Classic 2. Sign up today and start enjoying the benefits of accessible technology without the burden of monthly bills. Get qualified today.
What is the ACP and how do I qualify?
The Affordable Connectivity Program (ACP) is a program that provides discounts on monthly broadband Internet access service and certain connected devices. This benefit service is provided by BlindShell Mobile powered by EASY Wireless through support received from the Federal Communications Commission. Qualifying customers can receive our FREE ACP service plan with UNLIMITED Data, Talk, and Text.This is a non-transferrable discount program limited to one per household. For more information on ACP, click here.
Do I qualify for free monthly wireless service?

A household is eligible for the Affordable Connectivity Program if the household income is at or below 200% of the Federal Poverty Guidelines, or if a member of the household meets at least one of the criteria below.
✔ Medicaid/ Medi-Cal

✔ Supplemental Security Income (SSI)
✔ Supplemental Nutrition Assistance Program (SNAP)/ Cal-Fresh

✔ Federal Public Housing Assistance (FPHA)

✔ Veterans and Survivors Pension Benefit

✔ WIC

✔ Lifeline

✔ Received a Pell Grant during the current award year
✔ Is approved to receive benefits under the free and reduced-price school lunch program or the school breakfast program
✔ An Income below 200% of the Federal Poverty Level
*Offers vary by state and subject to Affordable Connectivity Program Eligibility.


Option to keep your existing phone


Free unlimited talk & text

Shop our best-selling accessible cell phones.
Instant savings on the BlindShell Classic 2 when you apply for free monthly wireless service.
Individuals who sign up for our free monthly wireless service are eligible for a $50 instant discount on the purchase of a BlindShell Classic 2. With the BlindShell Classic 2, you'll have access to a range of features designed specifically for individuals with sight loss, including a phyiscal tactile keypad, a simple user interface (menu driven), and text-to-speech technology. Don't miss out on this opportunity to stay connected and enhance your communication experience with BlindShell Mobile.
ACP wireless service is available across 47 States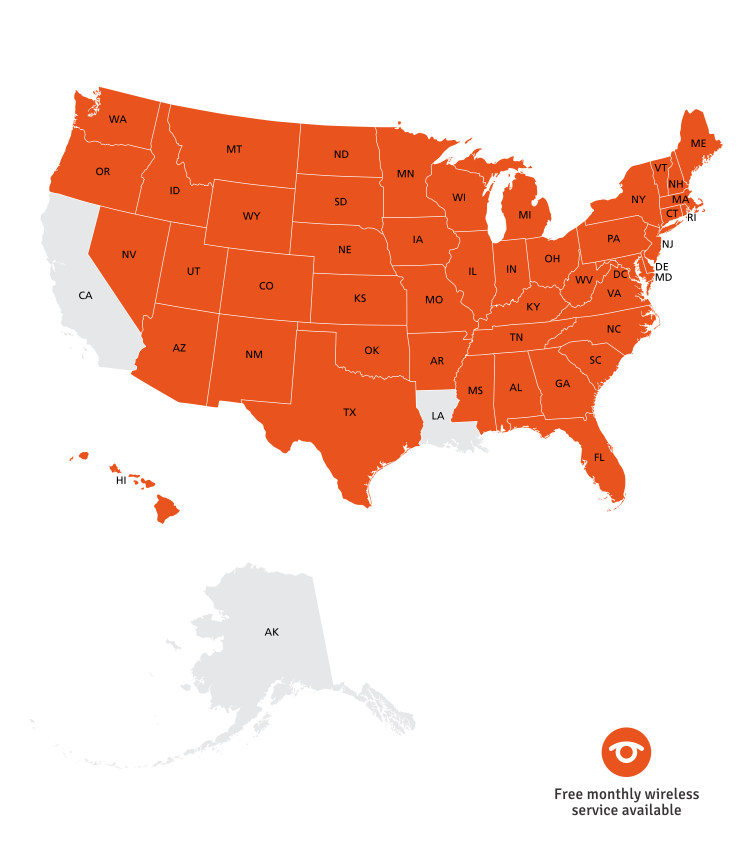 Frequently Asked Questions
When Does the ACP Program Run Out?
The ACP benefit is subject to funding availability from the FCC. If the FCC announces the end of the ACP, we discontinue our ACP service offers, or we determine your household is no longer eligible, we will notify you.
Can I Combine ACP with the Lifeline Program?
Yes.
When you combine ACP with the Lifeline Benefits Program, you will have FREE Unlimited Data, Talk and Text keeping you connected to family, friends, school, and work.
What If I Already Have Lifeline?
If you already have a Lifeline account with another provider, it's EASY to switch to BlindShell Mobile powered by EASY Wireless!
You are already qualified and in the National Lifeline Database, so just click the "Sign Up Now" button below, enter your information where prompted, and you will be automatically transferred to BlindShell Mobile powered by EASY Wireless.
How to Get Your FREE Affordable Connectivity Program Benefits
To receive your FREE Affordable Connectivity Program benefits from BlindShell Mobile powered by Easy Wireless just click the "Sign Up" button below.
Can I port over my existing number?
The simple answer is YES. After you recieve your new BlindShell Mobile powered by Easy Wireless SIM card you can big the process to port over your existing number from your carrier.
Partner with BlindShell Mobile
BlindShell Mobile is dedicated to empowering the blind community and enabling them to lead more independent and fulfilling lives. We believe that partnerships with your agency, organization, or private company that support the blind community are crucial to our mission. As such, we are proud to offer our partners the opportunity to provide free monthly wireless service to clients who use the BlindShell Classic 2 accessible cell phone or other mobile devices. By partnering with BlindShell Mobile, you can continue making an impact in the lives of the visually impaired and help them to overcome the challenges they face in today's digital world.
Are you a Federal or State Agency offering services for the blind and visually impaired?