Veterans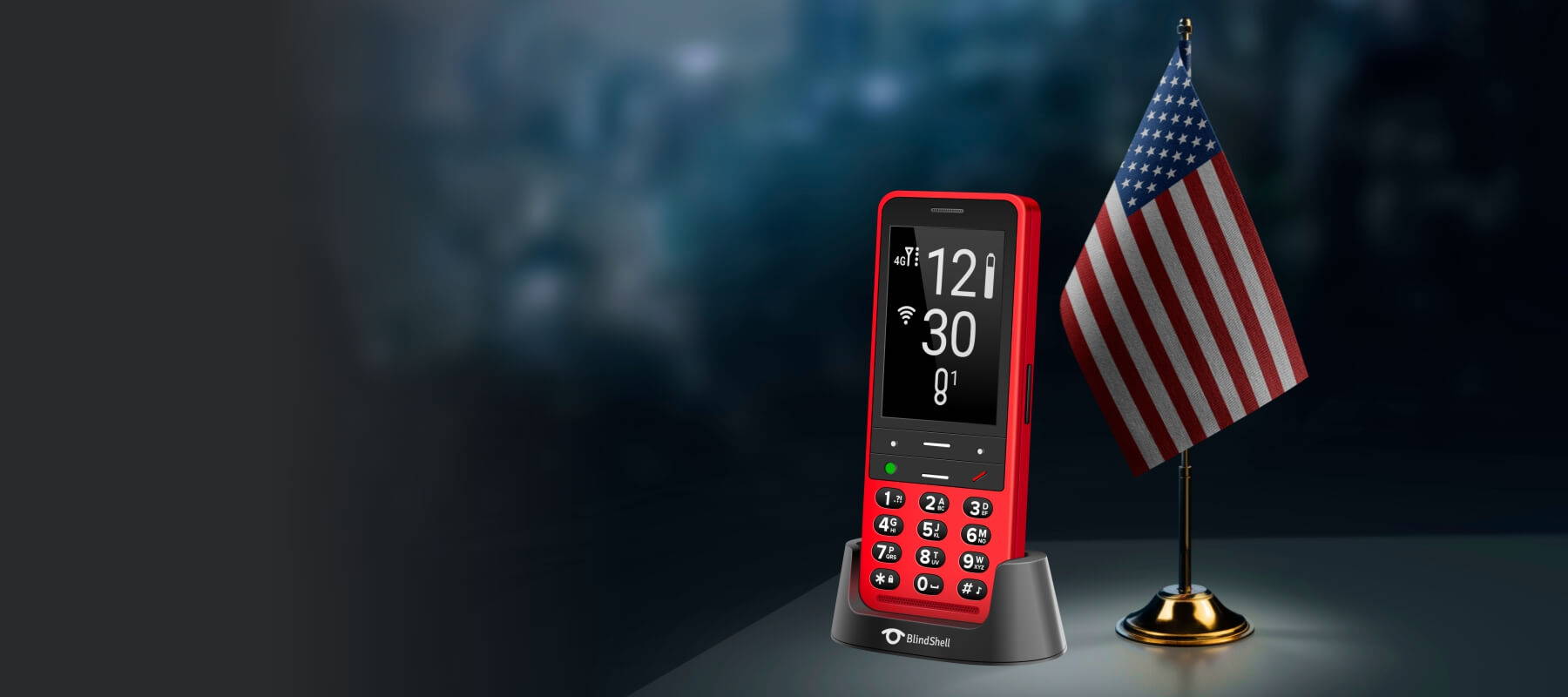 A multi-purpose accessible cell phone
and so much more...

Introducing the BlindShell Classic 2 Freedom:
Empowering Veterans with Accessible Communication
At BlindShell USA, we recognize the daily challenges that individuals diagnosed with macular degeneration and other visual impairment conditions encounter when attempting to carry out daily tasks.
Introducing the BlindShell Classic 2 Freedom accessible cell phone—a groundbreaking solution tailored for Veterans living with varying degrees of visual impairment. The BlindShell Classic 2 Freedom stands as an intuitive multi-purpose device, boasting a physical keypad, tactile buttons, streamlined menu navigation, voice commands, voice dictation, and compatibility with mainstream applications like Alexa, Aira, BARD, Google Lookout, Spotify, Zoom, and more.
Are you aware that a considerable number of your Veterans are eligible for free monthly wireless service? Qualifying individuals who are already beneficiaries of programs such as Medicaid, Supplemental Security Income (SSI), Supplemental Nutrition Assistance Program (SNAP), Federal Public Housing Assistance (FPHA), Veterans and Survivors Pension Benefit, WIC, and others, can avail themselves of free monthly wireless services. Learn more about our free monthly wireless program and how your Veterans can benefit from this federally funded program.

Accessible features you'll enjoy using.
Experience the groundbreaking features of the BlindShell Classic 2 Freedom, a cell phone designed specifically to enhance the lives of individuals with visual impairments (low vision and blind). This revolutionary device allows users to choose their preferred mode of communication, fostering greater independence and ensuring seamless connectivity.
Popular Applications Available on The BlindShell Classic 2
I am a Veteran. How do I get a BlindShell Classic 2 FREEDOM?
If you are a Veteran, you may qualify for a BlindShell Classic 2 FREEDOM accessible cell phone through your local VA at no cost to you. Please contact your local Visual Impairment Service Team Coordinator (VIST) to learn more.
Introducing Free Monthly Wireless
for your Veterans.
At BlindShell USA, we understand the importance of staying connected, which is why we are thrilled to offer our Free Monthly Wireless program. This unique program ensures that your Veterans have the FREEDOM to communicate without worrying about an additional wireless bill.
Program is open to any qualifying individual regardless of the wireless device they are using.
Program Highlights:
Free Monthly Data: Enjoy a generous data allowance every month, enabling you to browse the internet, send emails, and connect with others.
Unlimited Text Messages: Send and receive unlimited text messages to stay in touch with family, friends, and colleagues.
Affordable Voice Calls: Unlimited talk with seamless communication whenever you need it.
No Contract, No Hassle: Our Free Monthly Wireless program comes with no contracts or hidden fees, giving you complete flexibility and peace of mind.
*Individuals must qualify for service
What makes a BlindShell a BlindShell?
The BlindShell Classic 2 Freedom incorporates
accessibility features that improve daily living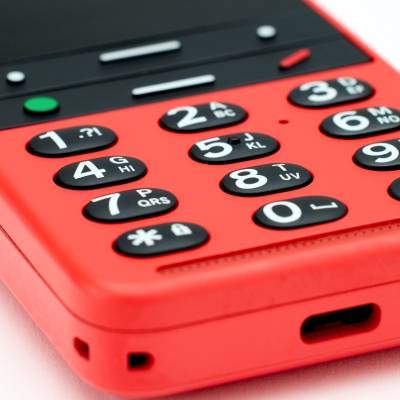 Enjoy seamless navigation with our tactile buttons and a large physical buttons for simple dialing. Bid farewell to touchscreens and welcome a hassle-free interface that enhances both accessibility and usability..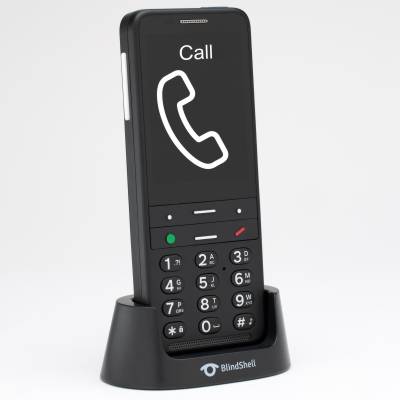 Navigate with intuitive menus. No need for swiping or tapping, when you can effortlessly scroll through the menus and begin communicating in no time. Save your favorites with instant access to your frequently used apps and features.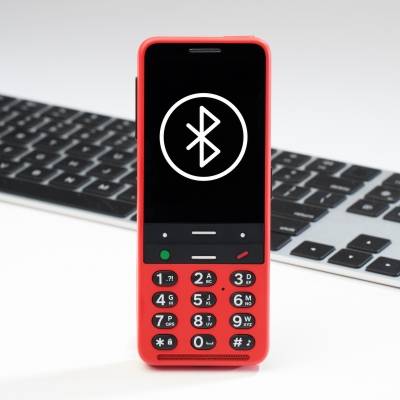 Seamless connectivity with the BlindShell Classic 2 as you pair your Bluetooth headphones and wireless keyboard. Stream audio without any hassle and indulge in the convenience of hands-free calling. Stay connected and maintain control with the versatile Bluetooth capabilities of the BlindShell Classic 2.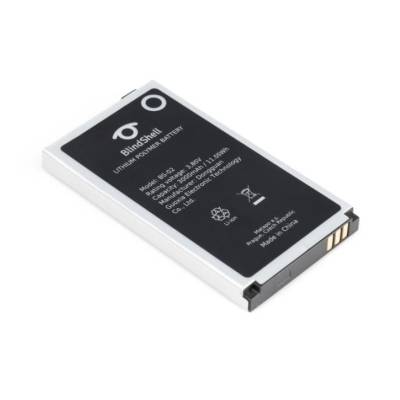 Equipped with a replaceable lithium-ion battery that offers an impressive standby time of up to 96 hours. Enjoy the convenience of extended battery life, ensuring that your device stays powered for extended periods without the need for frequent charging.
What's included with your BlindShell Classic 2 FREEDOM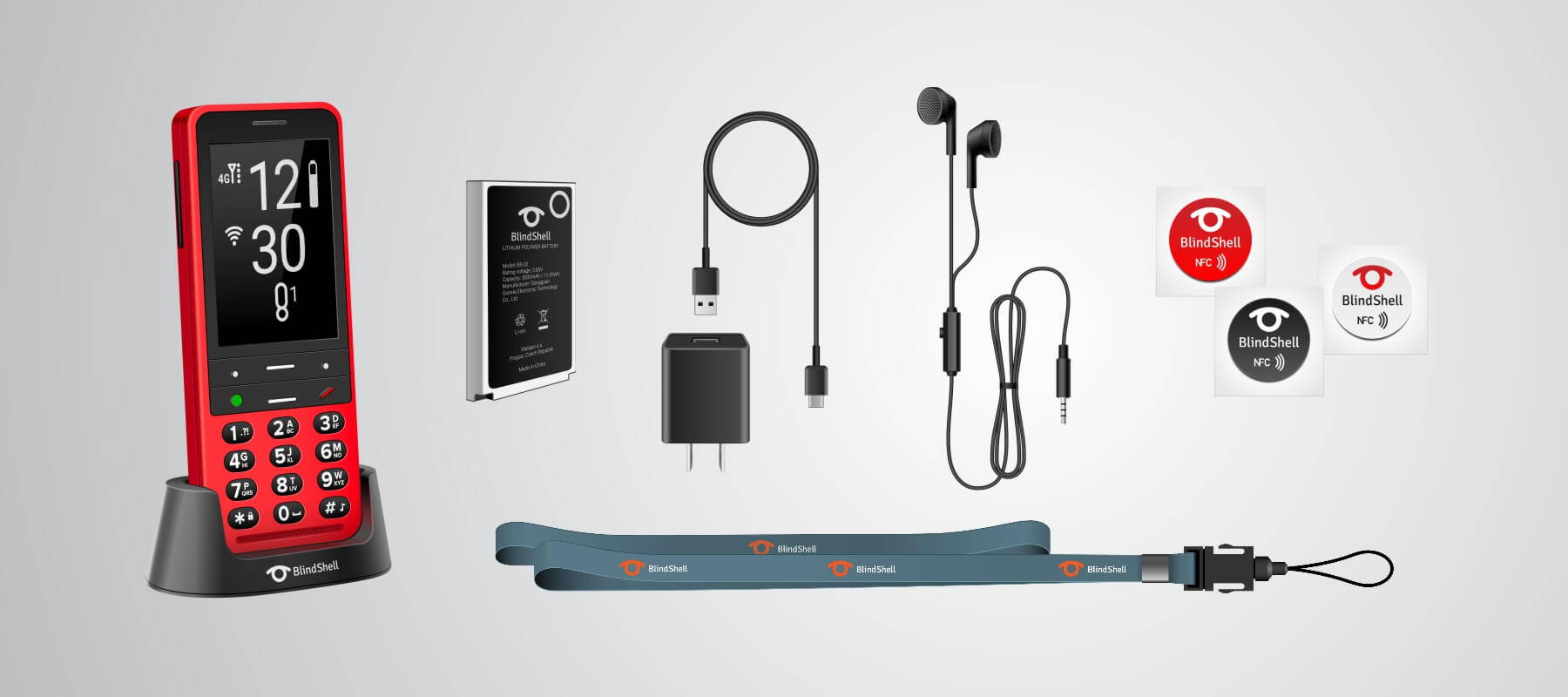 Replaceable Lithium Ion Battery

BlindShell Desktop Charging Cradle (black)

3x BlindShell NFC Tags for personal customization

Earbud style headphones

USB-C Charging cable with wall outlet adapter

BlindShell branded lanyard

BlindShell Classic 2 QuickStart Guide

BlindShell User Manual

BlindShell Classic 2 Premium Case with flip cover

Extended 2-year warranty (3-year total warranty)

Dedicated FREEDOM technical support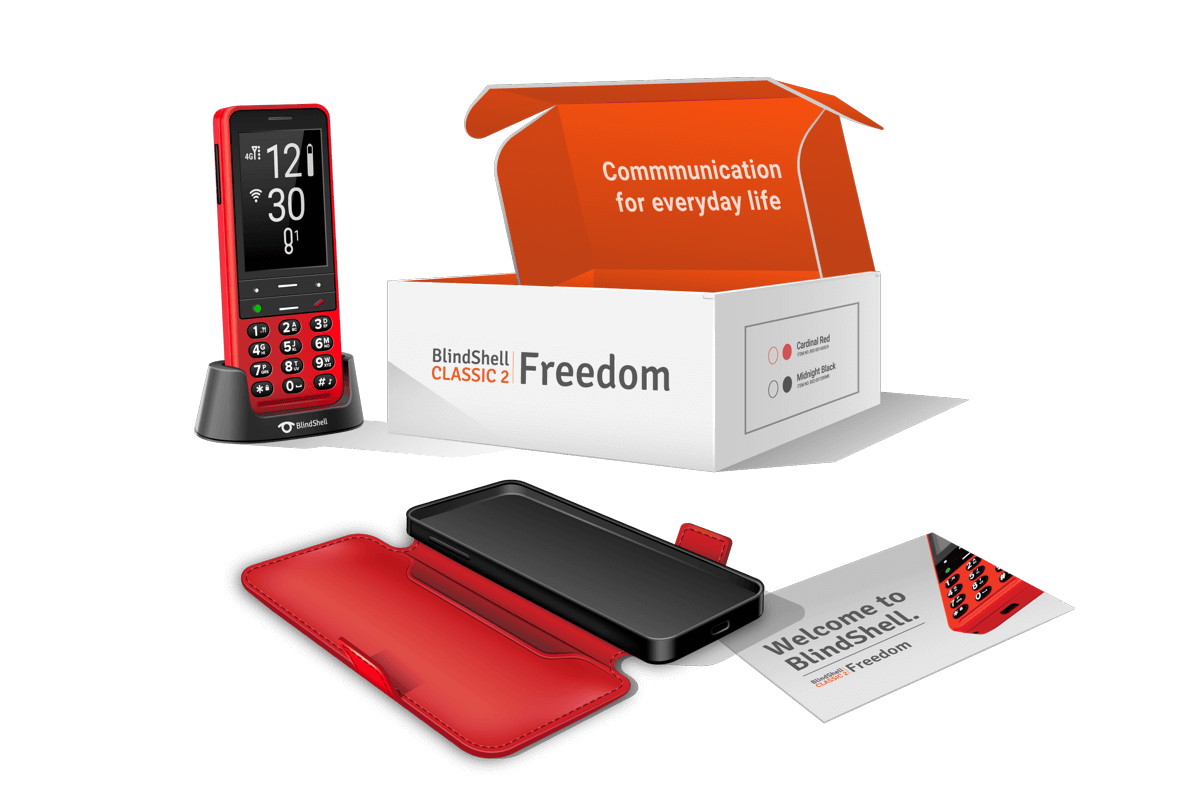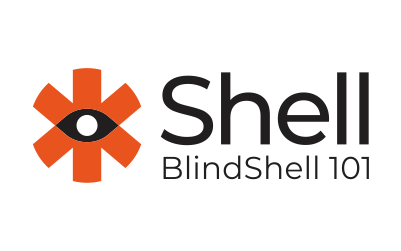 BlindShell 101 is a weekly livestream, designed in a course like setting to teach new and existing users the basic functionality of their BlindShell Classic 2 accessible phone. From making that first call, setting up email, using the Aira app, and much more. Learn more.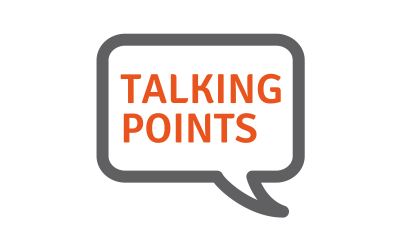 Talking Points is a bi-weekly livestream where you can learn everything about the BlindShell Classic 2 accessible phone, meet other BlindShell users, ask questions, discover tips and tricks, explore your favorite applications, learn every day hacks to help you streamline your communication skills, and much more. Learn more.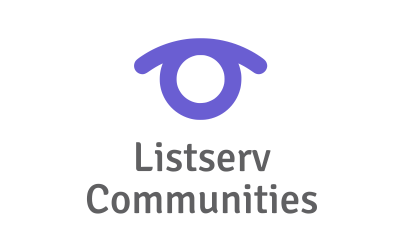 The BlindShell Classic 2 list serve groups are an invaluable resource for individuals using the BlindShell Classic 2 accessible cell phones. These groups serve as a vibrant community where users can connect, share experiences, and seek technical assistance related to their BlindShell devices. Learn more.